Ok, I just get so proud of myself when anything I sew turns out halfway decent. I bought a sewing machine with my birthday money two years ago. I read the manual cover to cover and got a very short tutorial from Carey (he grew up in a house with many sewing machines). The first thing I made was a closet curtain out of a bed sheet for Riley's room. Our rent house had those awful bi-fold doors that little fingers get caught in so easily. Anyway, it was surprisingly easy and I was pleased with the outcome. Since then, I have made pajamas, Victoria's baby bedding, our Halloween costumes last year and the maintenance of patches, hems, etc.
Well, I have discovered that I enjoy "free sewing" much more than using a pattern. The patterns stress me out a bit ... it feels more like work. I would rather just eye-ball it and figure it out than try to stick to all the notches and dots and such. It is fun to do. I really enjoy it.
Well, Mrs. Bush sent out a wish list of items and aprons were listed. So I thought that would be easy enough to make. I discovered some leftover western material I had (which is her theme in the room) and used that to make it: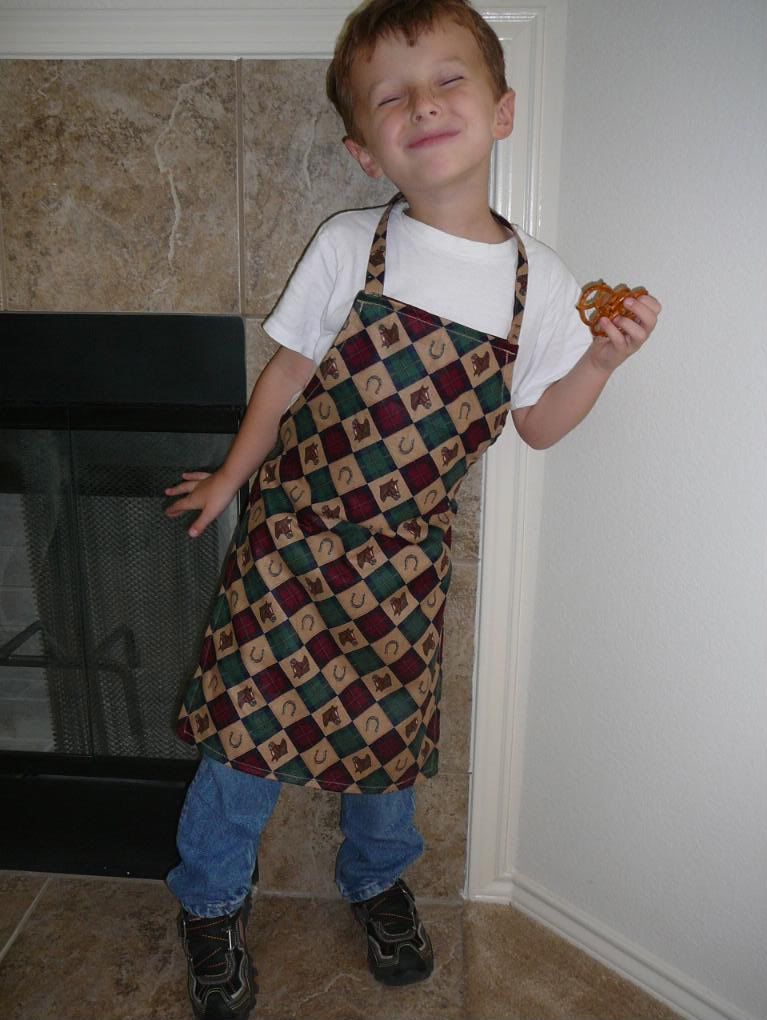 She loved it. I saw her showing it to her other teacher friends. That makes me feel so good. I think everybody loves to get those handmade things. I know that some of the best gifts I got at my showers were handmade. It reminds me of my great-grandmother (Mama) and every Christmas she would give us new pajamas that she had made. Just full of time and love. There is something about someone taking the time to make something for you.