We are back into the land of high-speed internet! It was a difficult time without our beloved high-speed, but we managed to get through it as a family. We are back to enjoying the everyday joys of high-speed.

But most importantly ... we are officially moved into our new house and are just loving it! The kids and I played hide and seek this afternoon and we all had a difficult time seeking each other ... lots and lots of hiding places around here. We have painted the upstairs ... our bedroom is Pecan something (light brown with a bit of red), Victoria's room is a beautiful Thimbleberry Blossom (purple), and Riley's room is New Brick (red). My favorite by far is Victoria's room ... it just looks so girly purple ... LOVE IT!! We are in the process of hanging pictures on the walls (I just can't stand blank walls ... love to be surrounded by pictures and scripture!!) and are still in need of some office furniture and something to put the TV on in the living room, but besides that, it is really starting to feel like home! The stairs are something else though. I was so sore that first week ... it was so hard to get out of bed. The way Victoria was walking one night, I think that she was sore too. We put a baby gate at the bottom of the stair, but haven't put on at the top as of yet. So she gets down the stairs at times without us knowing. She does it pretty well. I will have to get a video of it and post it. It is a belly slide ... too cute!




Victoria is now 16 months old. She is the best sleeper ever! Goes down without a fuss every time. The other day she had her blanket and star dolly and just stood by her crib at nap time waiting for me to pick her up and put her in. She is just now getting used to the idea of eating table food. She loves her meat (beef, pork, chicken). Her favorite is bacon ... just like Daddy! She self-weened the other day. I went to nurse her and she shook her head no ... pretty loud and clear for me! That is definitely her style. She is a nodder. She will nod her head yes and no to whatever you ask .... diaper change, snack, juice, bath, all done. Makes communication alot easier. She tries to say just a few words (car, ball, bye-bye, Gigi, Pops, Riley, Daddy, Christy (our dog), TV, hi, hello when she is playing phone). Notice that Mommy is not on the list. She said it as her first word, but no peep of it since. You ask her where Mommy is and it doesn't even register. Oh well. She is a smart girl ... so she may just be messing with me. Wouldn't put it past her ... she is her father's daughter!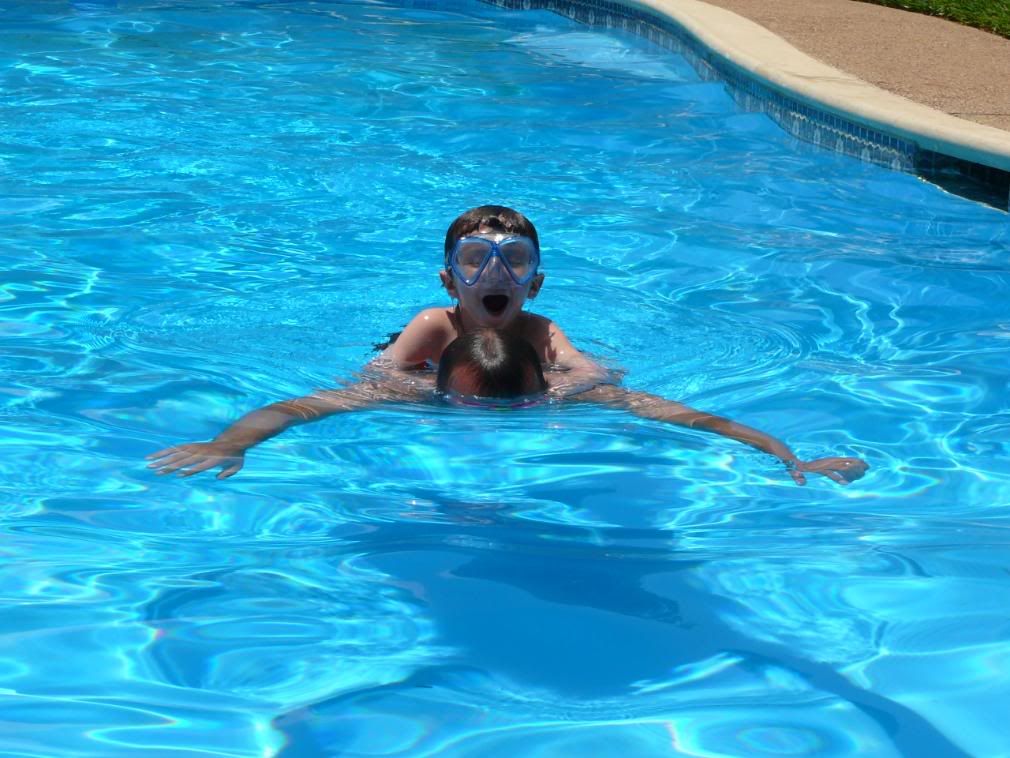 Swimming with Daddy at Pops and Gigis. Riley jumped
off the diving board this day ... very big deal!
I will have some more pictures of the house for the next post, so stayed tuned! Here are some pixs from Father's Day. I have been so blessed with some of God's greatest men in my family. They take care of me, my kids and my mom ... and seem to enjoy it (most of the time)! I love them all so dearly!
Carey with the kids on Father's Day.