So we just got back from our first camping trip with the kids (my seventh with Carey). They had a great time, but both were so excited to get home. First thing we did when we walked in the door was give the kids a bath. We were all absolutely filthy with dirt and smelly with smoke. We left on Monday after lunch with the van loaded to the max. I believe there were about 10 bins full of clothing, food, camping accessories, not including the tent, ice chest, pillows and blankets ... lots of blankets. I prepared for a cold night in the tent, which was a good thing considering it got down to 32 degrees on Monday night. Soooooo glad that Carey's Dad gave us that camping heater as a Christmas gift many years ago. Thanks Al!
Everyone did fairly well through that first night. Miss Victoria made a bee-line for me before she fell asleep. She buried her head in my chest and fell right to sleep. The only problem is that is how she wanted to sleep ALL night. Not very conducive to allowing me to sleep. But that didn't matter much since I was literally freezing. Carey and the kids usually get very hot when they sleep, but I on the other hand fall asleep at night with socks on, an extra blanket and usually cover my head in the winter time. So needless to say, I was so very very cold on that first night and slept about 4 hours ... not much fun. Then we all woke up to no camping breakfast (the best part of camping if you ask me). The Coleman stove that my Dad gave us that they bought 30 years ago broke. So the kids ate a cereal bar and yes, Doritos for breakfast. Then we all piled in the van, including the dog, and drove to Cleburne in search of a new stove. Found a replacement part for the ancient stove and we were back in business.
The rest of the trip went well. I can probably sum it up best in the following list of likes and dislikes about the trip:
Like - That Riley called them snoodles instead of s'mores.
Dislike - Packing all those bins with two kids at my ankles all morning.
Like - Seeing Victoria warm her hands by the fire.
Dislike - Freezing that first night.
Like - The food was so yummy. It also helped that Carey did ALL the cooking and most of the cleaning.
Dislike - The dog was with us. Need I say more.
Like - The fire in the morning and at night.
Dislike - Giving Victoria a shower in the public shower stall. She disliked it also ... very very much.
Like - Not having to fix my hair or put on makeup and getting to wear jeans and sweatshirts.
Dislike - The 10, seriously 10 loads of laundry to do when we got home. I even washed Victoria's diaper bag.
Like - Playing word games with Riley. He is just so smart and witty. Makes me laugh that guy does.
Dislike - Feeling dirty all the time.
Like - Being with my family with no tv to watch, house to clean, work to do.
Riley loaded up his stick with marshmallows.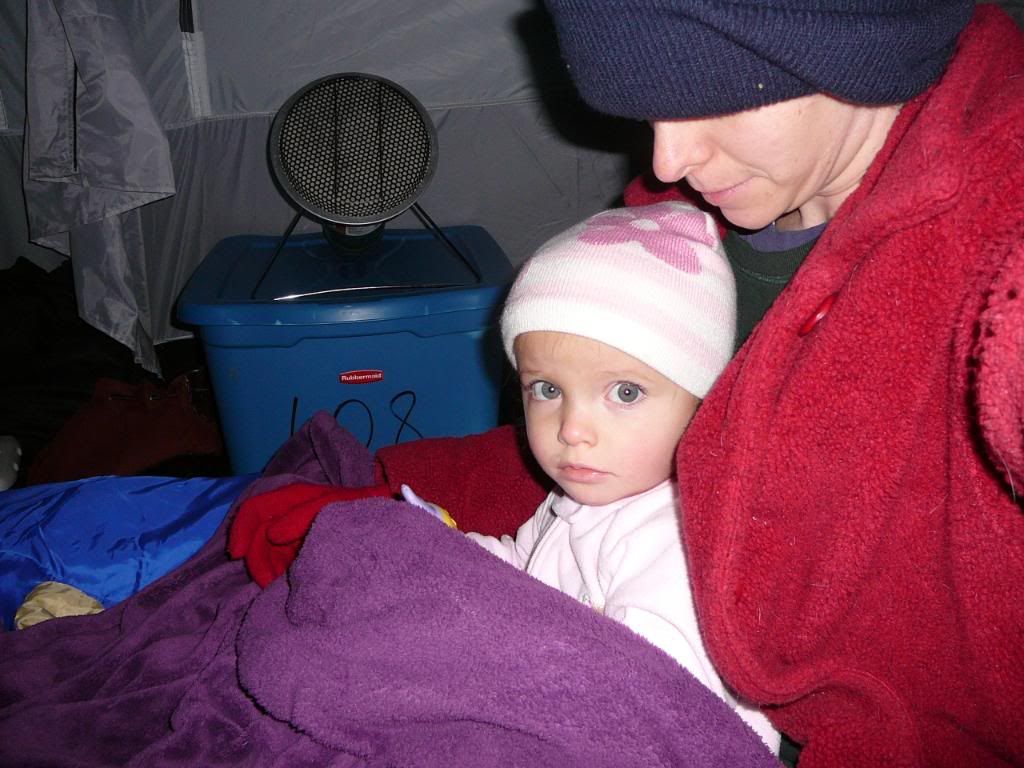 This was about 6AM on Tuesday. She woke-up a bit early,
so we watched a video until the boys got up.
It was just a tad bit cold ... only 32 degrees.
Going for a hike with Daddy.
No nap ... she fell asleep eating dinner that night around 6PM.
So we decided to warm by the fire.
We went to Dinosaur Valley State Park in Glen Rose, TX.
Riley was bummed that we didn't get to see any real live dinosaurs.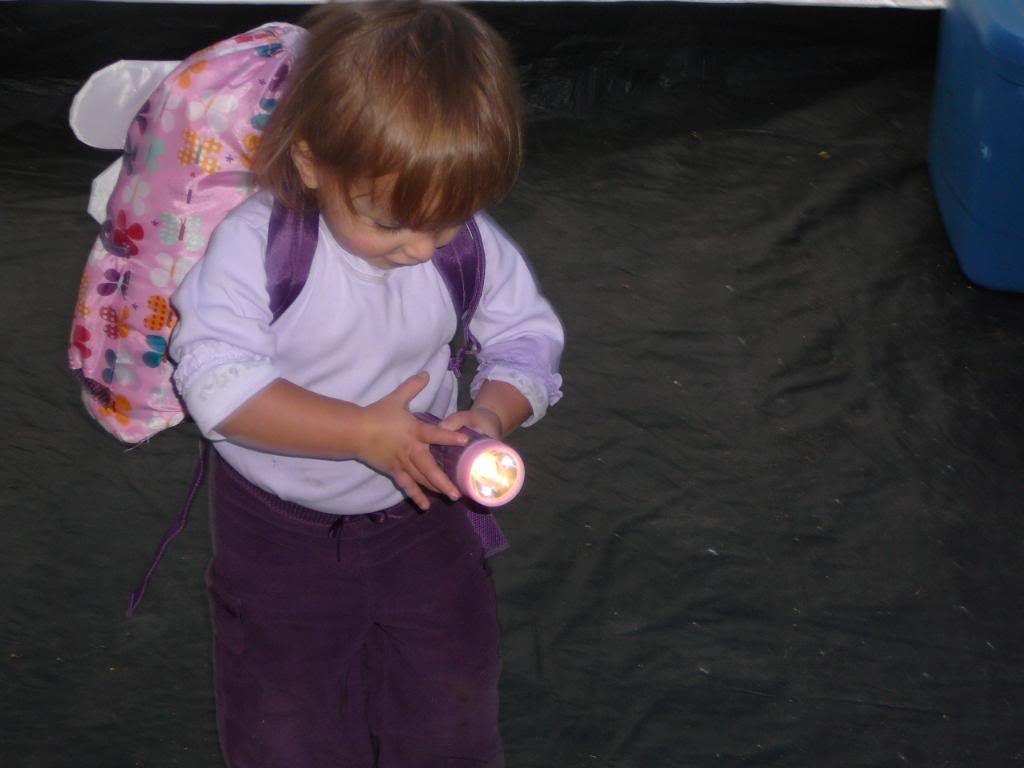 Victoria is ready to go ... home!